In a digital age, businesses increasingly rely on data centers to deliver high-availability environments that support their mission-critical workload.
With financial institutions, every minute of downtime can impact revenue, productivity, customer satisfaction and reputation. The cost of an hour of downtime can range from $1 million to more than $5 million, excluding legal fees, fines and penalties. This number can climb to millions per minute if the outage interrupts a major business transaction or occurs during peak business hours.
Given the potential of a severe financial burden, financial institutions need a data center that can deliver the reliability that matches their uptime requirements.
How do you measure data center reliability?

Uptime Institute's Tier Standard is the globally recognized standard for data center reliability and overall performance. Founded in 1993, the Uptime Institute has been dedicated to the exploration and study of data center infrastructure.
In 2005, the Uptime Institute designed the data center Tier Classification System which offers a consistent and objective international standard for data center performance. The capabilities of a data center escalate as you graduate from Tier I, which offers the least reliability, to Tier IV, with the most.
The Tier Classification System
Each tier includes the requirements of the previous level as you move up the tier ladder.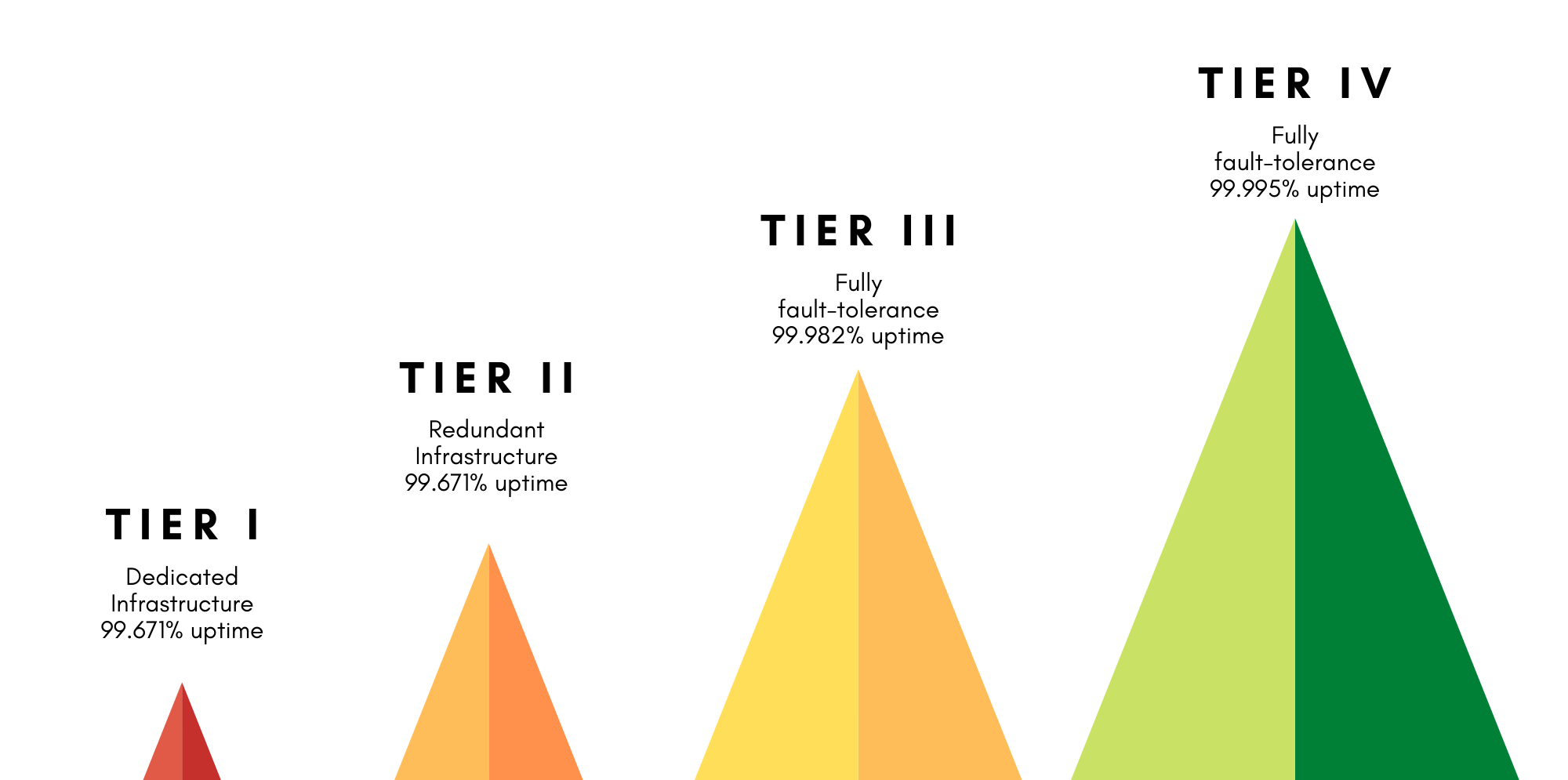 As the most basic level, a Tier I data center extends no guarantee of redundancy for any critical systems. At a minimum, the Uptime Institute requires it to offer a UPS; a designated space for IT systems; dedicated cooling equipment that runs outside of office hours; and an engine generator.
Tier II data centers build on the requirements of Tier I to include some redundant components. While this partial redundancy improves reliability to 99.741% uptime yearly, these facilities still utilize a single distribution path for power and cooling and are still susceptible to unexpected interruptions.
The architecture of a Tier III data center offers the capacity to support the full IT load and also offers an additional component for backup purposes, so performance is not impacted if a single component fails. The level of redundancy here offers concurrent maintainability, meaning that each critical component or distribution path can be shut down for planned maintenance without affecting the IT environment. However, Tier III data centers can conduct routine maintenance without impacting service, but are still at risk of downtime during unscheduled events.
Tier IV data centers are the most sophisticated tier certified by the Uptime Institute. Offering a completely independent architecture that duplicates every critical component of the primary architecture and provides multiple distribution paths, this fault-tolerant design provides twice the capacity required to operate at full IT load. This tier is generally populated by government organizations and large global enterprises with mission-critical servers and intense customer or business demands.
For industries with mission-critical workloads such as the financial sector, data centers must be reliable and that operations are not derailed due to system failure or natural disaster. The Tier Classification System provides a guide on the data center tier level that can best balance your risk tolerance and budget.